Who We Are
Amos Butler Audubon Society was first established in 1938 as the Amos W. Butler District of the Indiana Audubon Society. In 1952 the name was changed in conjunction with the Board's decision to officially became a grassroots chapter of the the National Audubon Society. If you are wondering who Amos W. Butler was, he was a man widely considered to be Indiana's greatest naturalist. Among his many accomplishments, in 1890 Amos Butler published The Birds of Indiana, the first book of its kind for the state.
The mission of Amos Butler Audubon Society is "To promote the enjoyment and stewardship of birds of Central Indiana". We do this by:
Hosting monthly educational meetings with presentations on a wide variety of topics
Offering field trips throughout the state and beyond
Monitoring and addressing issues in Central Indiana that involve birds and their habitat, partnering with other organizations to protect and preserve birds and their habitats.
Amos Butler Audubon Society (ABAS) has a long and successful history of championing the cause of birds in Central Indiana. One major ABAS accomplishment was assisting in the purchase and preservation of the largest rookery of Great Blue Herons in Indiana.  Now called the Millard Sutton/Amos W. Butler Audubon Nature Preserve, ABAS was a major financial contributor toward the purchase of the 76 acres of wooded land along an oxbow of the White River in Johnson County, south of Indianapolis.  To protect the nesting herons, this site is not open to the public.
ABAS assisted in the purchase and preservation of Burr Oak Bend, a 120-acre site along the White River in Hamilton County, north of Indianapolis. The site is an extensive intact forested riparian corridor along a high quality stretch of the White River. It is being restored from an agricultural field to 31.5 acres of mixed hardwood forest and 12.5 acres of prairie.
ABAS frequently works with the Central Indiana Land Trust, Inc. (CILTI) to preserve quality bird habit.  In honor of our 75th anniversary, ABAS made a $75,000 contribution to the Glacier's End project.  This is part of CILTI's Hills of Gold Core Conservation Area in southwestern Johnson County.
As a 501(c)(3) non-profit organization, our primary fundraising efforts take place during our annual Birdathon event in the spring. Audubon has had great success with this event and has raised more than $500,000 since 1987 for conservation and education projects.  This consistent achievement is largely the fruit of the notable commitment and work done by the long-time Birdathon Chairperson Donna McCarty.
Our chapter covers Indianapolis (Marion County) and the surrounding counties of Boone, Hendricks, Hamilton, Hancock, Johnson, Shelby and northern Morgan.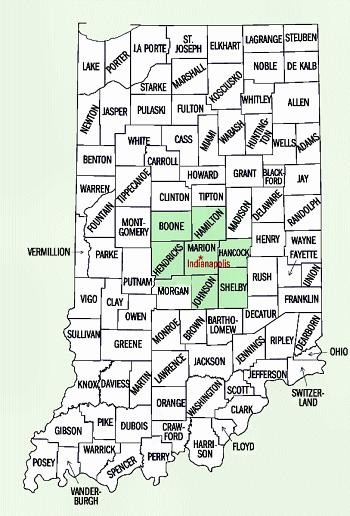 Contact the Amos Butler Audubon Society
We'd love to hear from you and will be happy to answer any questions you have. Fill out the form below and we will be in touch with you shortly.