Contact the Amos Butler Audubon Society
We'd love to hear from you and will be happy to answer any questions you have. Fill out the form below and we will be in touch with you shortly. If the form fails, please email us at info@amosbutleraudubon.org.
Address
Amos Butler Audubon Society
PO Box 80024
Indianapolis, IN 46280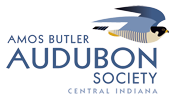 Email
info@amosbutleraudubon.org
Get Connected
Follow the Amos Butler Audubon Society on Facebook, Twitter, and Instagram to stay up to date on all things birding in Central Indiana.
Become a member, volunteer your time, or make a donation today.